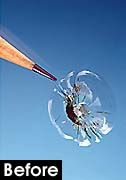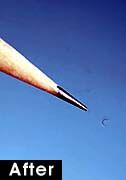 before & after pics courtesy of GlasWeld
Specially developed resin is injected into the damaged area and cured with Ultra Violet light. Optical improvement varies depending on the type of damage, usually 90 to 100% improvement.
1 star, bullseye or similar damage

$65
Each additional on same windshield

$10
Ask about the multiple vehicle discount.
Repairs are guaranteed not to spread, for as long as you own your vehicle.
Services no longer offered:
Windshield Long Crack Repair / Removal of Scratches, Acid Graffiti, and Hard Water Stains.
Why don't you replace glass?
Windshields are NON recyclable, an inseparable sandwich of glass/plastic/glass. That's a good reason to get more use out of your existing windshield until you get the "big one" that's beyond repair. Every successful repair means one less windshield in the landfill.
Where is your shop?
There is no shop, it's a mobile service. Schedule service to your location in Elk Grove most Saturdays and after 5pm M-F. My glass business became part time when I returned full time to Caltronics Business Systems in June 2011.
What will it look like when it's done?
Outside:
a smooth water spot is usually all that will be seen. This is where a pit, or divot was created on the surface from the projectile's contact with the glass. After the repair, pit filling resin is applied and polished leaving a smooth surface like a water spot.
Inside: more detail may be noticed due to the backlight effect created by brighter light on the outside of the vehicle and the closer proximity of your eyes to the glass when sitting inside. Depending on the type of damage - star, bullseye, half moon, combination, a slight sparkle may sometimes be seen from certain angles but has no negative structural effect on the repair.
Yes. Windshield repairs are guaranteed not to spread, weather or discolor for as long as you own your vehicle. We're convinced you'll be completely satisfied or your money back.

How long does is take?

About half an hour for a typical star or bullseye. For more than one repair add about fifteen minutes each.
Why would my insurance pay for this?
It saves them money. They'll love you for not replacing your windshield. The logic is similar to repairing the puncture in a good tire instead of replacing it.
Can a damaged windshield start running while it's being repaired?
Industry statistics say that chances are 1 in 5000 for this to happen. The windshield on a car sitting in the sun with all the windows rolled up can be so hot that working on it could easily result in a failed repair. Working under controlled conditions takes a little extra time in the summer but highly improves the odds of success.

Is glass really a liquid?

What? An old urban legend claims that glass is not really a solid but a "super cooled liquid".